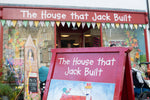 The House That Jack Built Ltd
When I decided to build my house in Settle, North Yorkshire I wanted to ensure it would be a bright and engaging place for children of all ages.
Over two floors Jack stocks a huge range of traditional toys, including brands such as Melissa and Doug, Tidlo, Hippychick, Hape, The Puppet Company, Frugi, Magnetic Mouse, Sarah Louise and local company Piccalilly. 
In Jack's kitchen you'll find all the equipment and ingredients needed for the budding chef and little thespians can find his fancy dress section upstairs. Jack's parlour has nostalgic games, jigsaw puzzles and children's books. 
Throughout the shop he has lots of pocket money treats, party bag fillers and silly things that make you smile!
Jack hopes you enjoy visiting his house and would love it if you could join his mailing list so that he can let you know of any special promotions or invite you to any exciting events that he is planning.