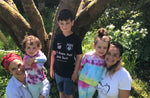 Welcome!
Thank you for visiting Aggie & Me our new online store. 
Whilst Jack's door has been closed over the last couple of months, we have been busy behind the scenes creating our new website Aggie & Me. 
Anne affectionately known by her grandchildren as Aggie & Me (Carrie, Anne's daughter).
We are not leaving Jack behind by any means & look forward to welcoming customers old & new through our door as soon as it is safe to do so, however we feel now is the time to evolve our business with a new look, whilst keeping Jack's roots at the heart of what we do. 
Aggie has been busy doing what she does best... knitting! (Bouncing Berties) and being creative. I have been developing the website and together we have been looking after 3 little ones - Albert (5), Matilda (4) and Quinn (2). 
We have also been creating our new Jack's Special Delivery Gift Parcels which can be sent directly to your little one's door in Aggie's hand illustrated boxes.
We will be continuing to add lines and brands all the time, don't hesitate to get in touch if you need anything. 
Love Me xoxo
Don't forget to follow both aggie_andme and jacks_settle on instagram.