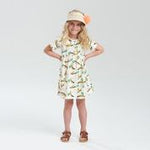 Brand of the Month - The Bonnie Mob
Each Month we would like to focus our attention on a specific brand, giving you a little more information and brand background.
This month our chosen brand is The Bonnie Mob, this is a new brand to us, stocking our first range just last month, and I have to say I'm in love!
As a brand they focus heavily on sustainability with their mantra for their clothing focusing on 'Practical, tough-wearing, spirited baby clothes to be loved in, played in and passed around'.
Their ranges offer organic cotton and when this is not available they use cotton yarns approved by the better cotton initiative, sustainable denim, cashmere and ensure throughout that no harmful chemicals are used. 
Their Mob Rules are definitely something we could all live by with our clothing choices:-
#mob_rules
Go wild wearing it,
Be comfy doing it,
Pass it on to another Mobster.